April 24, 2014 | 8:00 p.m. | Butler Music Building, Room 163
Clapping Music | Steve Reich
Spontaneity | Michael Iorio
Desert Celebration | Matt Savage
Wink | Mark Ford
Variations on a Ghanaian Theme | Daniel Levitan
Postludes, No. 1 | Elliot Cole
Trio Per Uno, Mvt. 1 | Nebojsa Jovan Zivkovic
Six | Ivan Trevino
Sharpened Stick | Brett Dietz
I've been driving down to Mansfield, PA once a week this semester to teach percussion at Mansfield University. It has been a really great experience for me and the students are great! They have spent a lot of time outside of our weekly rehearsals preparing this program and we can't wait to share it.
Here are a few pictures. The first is from when the students came up to Rochester to see the Eastman Percussion Ensemble Concert in February. The quality is low since were sneaking in to take a quick peak of Eastman Theater while RPO was rehearsing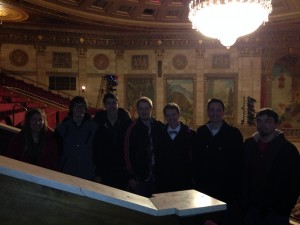 And here is the view from the music building at Mansfield University. So beautiful!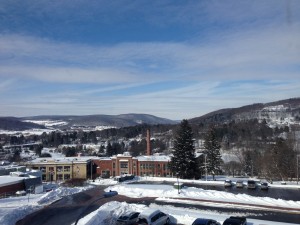 Finally, here is a link to their Facebook event page for the concert: https://www.facebook.com/events/692917344098281/?ref_newsfeed_story_type=regular