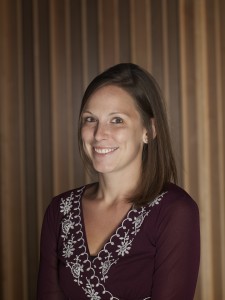 Megan Arns is currently pursuing a Doctor of Musical Arts in Percussion Performance & Literature and a Master of Arts in Ethnomusicology at the Eastman School of Music. She holds a Master of Music and a Certificate in World Music from Florida State University and a Bachelor of Music from Truman State University, where she was recognized as a Presser Scholar. Her primary teachers include Michael Burritt, John W. Parks IV, Michael Bump, Bill Cahn, and Nasser Salameh.
Active both as a contemporary chamber and world percussionist, Megan's recent highlights include collaborative performances in India, Jordan, Costa Rica, Ghana, and the United States at venues such as the Kennedy Center, Millennium Park, Al-Hussein Cultural Center, Teatro Nacional de Costa Rica, the Percussive Arts Society International Convention, the College Music Society Regional Convention, and the New York City Day of Percussion. Megan is a co-founder of the award-winning chamber ensemble Denkyem Percussion Group, which toured Costa Rica as a featured group of the "Promising Artists of the 21st Century" series in 2010. She has commissioned and premiered works by notable composers such as John Luther Adams, Alejandro Viñao, Halim El-Dahb, Steven Snowden, David Skidmore, and Brian Nozny and appears on the recent percussion ensemble recordings Volume I (Florida State University-2010) and Pitch/Pulse (Truman State University-2007).
Megan's interest in world music has inspired her travels to several countries in Africa and the Middle East for study and research.  In 2007, she was awarded a research grant to travel to Ghana with the Kekeli African Drum and Dance Ensemble, studying music and dance with Emmanuel Agbeli, Sulley Imoro, and Bernard Woma.  Most recently, she has traveled twice to Amman, Jordan, filling an interim position on the faculty of the National Music Conservatory as Instructor of Western Percussion and Principal Timpanist of the Amman Symphony Orchestra from 2010-2012.
Additionally, Megan has performed with the Tallahassee, Sarasota, Northwest Florida, Albany, Southern Tier and Macon Symphony Orchestras.  She also has extensive experience in the field of marching percussion, serving as the Front Ensemble Instructor of the Boston Crusaders Drum & Bugle Corps for the 2008-09 seasons and receiving the distinguished Mike Laporta Percussion Award as a performing member of the Santa Clara Vanguard from 2005-06.  Megan is a member of the Percussive Arts Society, College Music Society, Society for Ethnomusicology, and the Innovative Percussion Education Team.